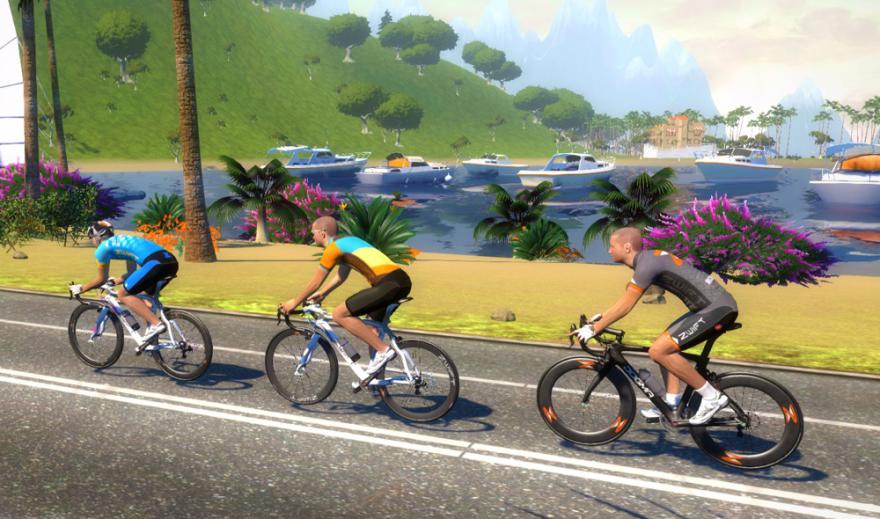 Zwift, the 3D cycling world represented by your computer paired with your bicycle's sensors and a small USB radio adapter, has become so popular and so entrenched in the colder season's months when we typically spend more time inside than out, that even our younglings have begun to notice!
They don't just notice us riding or our gear set up in our "pain caves", but they want to try, they want to participate and they want their own character on the screen with the "cool shirts and bikes" too.
But getting someone much younger than us into the game isn't as straightforward as it was for us. They are motivated by very different goals and desires than we are.
While we might ride on Zwift to increase our FTP, upgrade our fitness level, lose some of that extra Thanksgiving and Christmas roast from our backside, or recover slowly from an illness or medical procedure, our children want to jump in for the pure, unscripted joy of riding, competing and winning those "neat blue thumbs" (RideOns) or making it to new levels to earn new gear. Let's face it though, we're excited to reach that new level and unlock gear too!
So let's talk about how we get our junior riders up and running on Zwift, and how we can support and encourage them to continue enjoying the sport, not just indoors during the winter season, but also outdoors when the weather warms up and the roads are clear of the white snow.

Creating a Zwift account
---
As of today (mid-January, 2016) Zwift does not yet support the notion of a "Family Account", although it's marked as a
"Planned" feature
in the
Zwift Support system
.
This means that while your Zwift account will still cost you $10.00/USD/month (£8 inclusive of VAT), creating an account for each of your children who ride is an additional $10.00/month. There is no discount for members of the family under the same account or plan. Yet.
If your child(ren) ride more than the first 2 weeks or 50km (31 miles) in distance, they'll need an active, registered account to keep riding. The last thing we want for our little ones is to get them enthused about riding on Zwift, only to have the system shut them out because they reached the Trial limitation.
The best thing to do is to sign them up for their own account on the main Zwift website, and you will have a much happier and healthier young rider beside you! Zwift will only charge you for the months you're actually riding, so if they decide to take a month or two off, no problem!
One thing you want to do when you sign them up in Zwift, is to append _junior to their last name in their account settings. It should look something like this when you've got it right: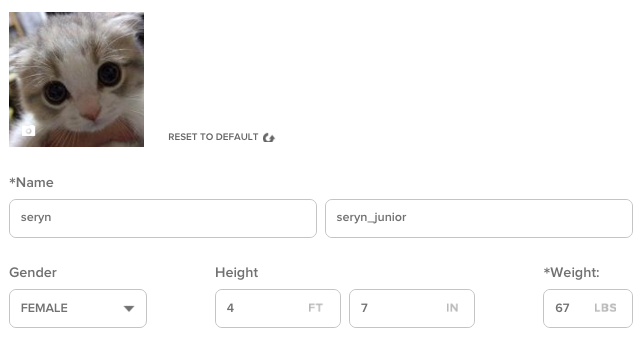 This is customary in Zwift and signifies to others, that this rider is under 18, and is likely using zPower, so respect and courteous language is appreciated.
Linking Zwift to Strava
---
If you're going to want to track your child's progress on the bike in Zwift or simply watch their performance over time, you'll probably want to hook them up to Strava and connect their Zwift account to Strava as well. Pop on over to
Strava
and sign them up, using the same email you used to sign them up with Zwift.
Strava is free for some limited functions that it provides, which are more than enough for a child using Zwift. If they get so good that they're entering rides and races in the real world and need to formally track their progress and fitness gains, you might want to consider bumping their Strava account up to a "Premium" account, but there's no need to do that just yet while they're riding exclusively on Zwift.
Once you have them set up with a Strava account, you'll want to connect Zwift and Strava. Luckily there's a detailed knowledgebase article in the Zwift Knowledgebase that can help with that!
Once connected, they can upload their ride activity after ending each ride by sending it from Zwift straight to Strava. You can then use the tools on Strava, VeloViewer and some browser plugins available that supports Strava to visualize and integrate that data however you wish.
Gear and equipment
---
The next hardest part, is getting the right bikes and equipment working on Zwift. Zwift has some medium to high requirements when it comes to getting things connected, and you'll need to make sure you have that set up before you can ride on Zwift.
You'll need, minimally, the following gear for them:
Bike sensors
---
If you have the base PC requirements met and out of the way, you now want to have some sort of sensors attached to your child's bike, so it can relay the ride data to the Zwift desktop application for virtualizing your child's bike and rider on the course.
You can get speed and cadence sensors in separate units or in a single "pod" that attaches to the rear, non-drive chainstay. I use an integrated CatEye ISC-11 pod on my daughter's bike and on both my mountain bike and road bike.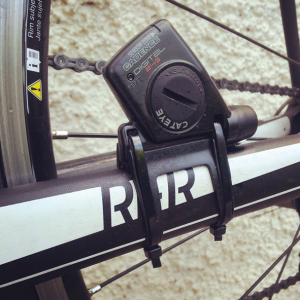 Whatever sensors you choose to run, make sure it supports the ANT+ protocol. While some sensors support Bluetooth Low Energy (otherwise known as "BTLE"), the support for BTLE in Zwift is still in its infantcy, so stick with ANT+ for now, as it is the superior protocol and device overall, and it is supported by Zwift right out of the box.
Mounting the sensor on you child's bike should be very straightforward, with the minor exception of possible magnet placement and wheel circumference calibration, if your sensors happen to require that.
The bike trainer
---
The next hard part is the trainer itself.
Most stationary trainers are designed to hold a 26″, 650c or 700c wheel and are designed with that circumference in mind. Many children's bikes have 24″, 18″ or smaller diameter wheels attached, which may not match up with your trainer's rear-wheel capability.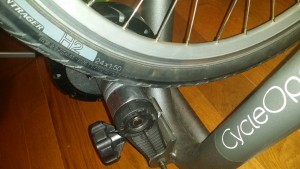 It's crucially important that you make sure the trainer is securely attached to your child's bike in the trainer with no wiggle room or play. Most children's bikes don't come with a quick-release (QR) skewer, so you want to be sure the trainer's female end mates up securely around the fixed bolts on your child's rear wheel.
My daughter's bike is using 24″ wheels and fits perfectly in my old CycleOps Magneto (Gen1) resistance trainer, as you can see here, with no additional parts or adapters installed:
You may need to dial in your trainer differently, if it does not fit, or if your wheels are smaller diameter. What others have done which works to a degree, is just bolt the rear axle into the trainer, but don't apply any resistance drum resistance to the rear wheel. Just let them 'freewheel' their rear wheel in the air.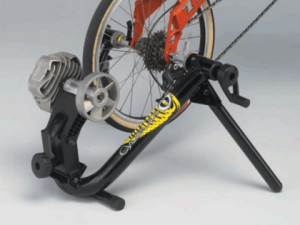 CycleOps makes a 20″ to 24″ Wheel Extender for their trainers, which will bring the resistance wheel upward closer to the smaller wheel diameter. You could use this if you have one of those types of trainers.
Kinetic also makes one for their trainers as well, if you happen to have one of those trainers.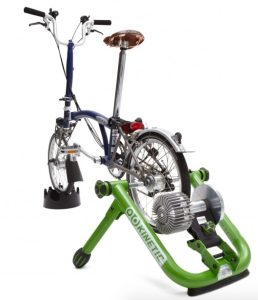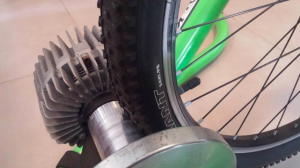 Whatever direction you choose, make sure the bike is secure and that they're not over-spinning their gears because it's "too easy" to pedal. That won't be enjoyable to them and they'll get discouraged fast.
Cycling clothes
---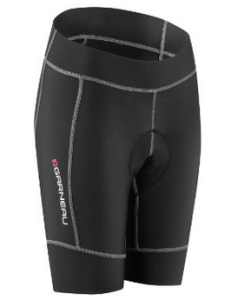 This is often overlooked by many parents, but if your child is going to spend any length of time in their own saddle, you'll want to get them their own padded shorts, possibly even mini cycling gloves.
You don't need to go all-out and look for a full cycling bib and jersey set (although that will get them in the mood to "kit-up" and ride every time), you do want to make sure they remain comfortable while biking.
Children's bikes, by their relatively cheap nature have very hard saddles, mostly made of vinyl, heavy steel or aluminum and… wait for it… springs! Our adult, road bikes have expensive leather, carbon saddle frames and aluminum or even carbon rails. They're a joy to sit on for dozens to hundreds of miles.
Now sit on your child's bike and pedal 5 miles. See how much your arse hurts? They feel that too.
You don't need to replace their saddle, but finding them good, quality padded shorts will make a huge difference in their comfort. If they're comfortable, they'll want to ride more. If they're uncomfortable, they're going to hate it.
As I write this, my daughter is 11 and is just taking up riding more regularly. She would complain about her seat, so we tried putting a towel under her butt, then a pillow and it wasn't helping. I searched around and found a pair of cycling shorts in her size from "Louis Garneau" (available on Amazon) that fit her perfectly! No more towel or pillow for padding, and she's able to ride 20 miles at a time on her own, without a single complaint.
Monitoring their online use
---
While your child is cycling on Zwift, they're immersed in a world of other cyclists from around the globe, across all languages, timezones, ages and ethniciites.
They're also riding with riders who may have a very different moral compass than yourself, or lack tact, respect or boundaries. Make sure you don't let them ride unsupervised or alone on the course with others. You have to be present, mentoring them, coaching them but also protecting them from any possible inappropriate influences they might encounter while riding.
When you set up their account and add the customary _junior to their last name, it should signify to other riders to be respectful of their Group Chat, language, content and other behavior in the game.
Also because most children riding on Zwift don't have their own high-end bike + power meter, they're likely using zPower, and using this suffix on their name should help others on the course to refrain from flagging them as a "cheater" for their performance or achievements.
Some parents feel this draws attention to their rider, while others feel that it keeps people behaving appropriately. Use your best judgement here and set their profile up accordingly. Zwift doesn't have any SafeSport Certification built into the product as yet, so it's our job as parents to manage our children's use of the game.
If you see any inappropriate language, discussion or behavior, feel free to let them know with a respectful "Excuse me, my child is riding, can we please keep the profanity down?" or "Please don't flag my child with username jones_junior, they're not cheating, they're just learning to ride on Zwift, thanks!"
Often the simplest of comments will help keep others to a respectful level of behavior in-game. If someone persists in misbehaving while your child is on, you can flag them and let Zwift Support deal with it, or you can go into your child's account settings in Zwift, and disable chat altogether until things calm down again.
Another option and one that I've personally used successfully, is to disable Group Chat in-game, but leave it running from Zwift Mobile Link on my tablet while I'm monitoring her riding. There's an article in the Zwift Knowledgebase that describes exactly how to do that:
Keeping them nourished
---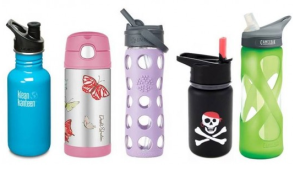 Another one that is often forgotten, is to teach your child to drink (and eat) while riding. We get tired, thirsty and we perspire while we ride in our trainers, and so do they!
Get them their own water bottle, something hip and cool that they pick out and like, and make sure it's 100% BPA free. We want our children to out-live us, so do what you can to avoid any unnecessary dangerous chemicals from leeching into the water they drink.
It also teaches them good habits about replenishing the energy they're expending while riding, so when the warmer weather comes back around, they're already used to packing up a few bars and water for their rides.
The difference here, is that the concentration of the ingredients in the standard gels and energy bars may be too high or too complex for them to handle, so keep it simple: A bag of peanuts, some dried banana or apricot slices, grapes or other small foods easy to handle. Put them in a bowl that can be accessed easy while they're riding so they don't have to dismount to grab a handful of snacks.
The same goes for the water bottle or CamelBak. Don't fill it with a complex energy drink, keep it simple; plain water, watered-down juice, or other easy to digest drink.
Stay away from the chocolate milk or regular milk for hydration, as that's not going to replenish what they're sweating out. A good glass of chocolate milk after the ride to replenish energy lost is good (milk is a good form of protein, casein, fats), but isn't a good choice during the ride.
Motivating them to keep riding
---
This might be the most-difficult (or the easiest) to do. Keeping children motivated to do something that is really "work" is hard. Homework, getting up and dressed for school, eating healthy foods, it's all part of being a parent to make sure they grow up to outlast us and excel beyond our dreams.
Setting mini goals for them, little "challenges" along the way can definitely help keep them riding. I would have never thought my own daughter would be riding a single 20-mile ride at age 11 on a stationary trainer in my living-room.
But the RideOns she was getting along with my guidance to help drive her to the next corner, the pack of blue riders ahead, passing the "rider in the red jersey" that passed her, really helped push her over each mile marker.
If you can motivate your child to kit up with some cool cycling clothes, get on a bike that is their own, with a dedicated trainer they use for themselves, a hip water bottle and great, nourishing snacks they helped pick out, it's hard to deny the #ZwiftEffect will take hold and keep them riding.
Add to that, the fun of riding with others on the course, sightseeing new things on the side of the segments as you ride ("Look dad, the whale is coming up!") and getting those addicting "RideOn" thumbs-up from other riders, it really goes keep them going.
If you have your bike in your own trainer next to theirs, and they're riding alongside you, it really does help push both of you to keep moving forward!
---
If you can think of any other ideas, things I've missed here, comments or criticism, please
let me know
!