I'm 44-year old cyclist, father, technology entrepeneur, developer, friend and mentor.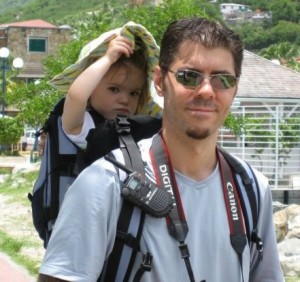 I currently live on the southeastern shoreline in CT. I recently left the position of VP on the technology side of a large financial services firm in downtown Manhattan where I worked for nearly the last 8 years. I spend 1/2 of my time with my daughter and the other half trying to fit in as much cycling, learning and bringing new ideas and inspiration to life as I can.
I've been riding since I taught myself how to ride a bike by coasting down a paved apartment complex driveway on a borrowed bike in East Hartford, CT. I kept doing it over and over until I could balance on the seat and bike without falling, and then I learned to slowly put my feet on the pedals and coast on the bike as far as I could, until I was really pedaling on my own. I was about 7-8 years old. I never had a father to teach me how to ride, so I had to teach myself.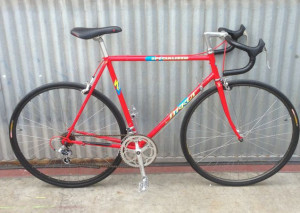 As I got older, my bicycles evolved and became my primary mode of transportation. I was working at Burger King in the early 90's and saved up all summer to buy my first racing bike; a Specialized Cirrus chromoly, cherry red bike. Loved that bike!
I used it to ride 30 miles a day, every day back and forth between two jobs and a girlfriend as a teenager between Lebanon (home) -> Willimantic (job 1) -> Colchester (job 2) and my girlfriend at UCONN in Storrs. I never needed my auto driver's license until I was 19. My bike gave me all the transport I needed for many years, day and night, 4 seasons a year.
As I started add miles to my rides, I found social group rides out of two local bike shops out of Willimantic, CT; Scott's Cyclery and Rainbow Cycle Sport a couple of blocks away. Scott's is still around to this day and Scott himself still works there in the shop. Scott's shop catered to the general, recreational cyclist while Ron's shop at Rainbow was definitely catered to the more-elite racer in the A/A+ category.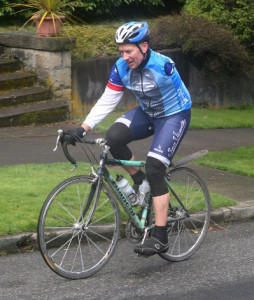 One of the better riders from Rainbow Cycles used to pass me on my daily commute, flying up a very steep hill as I was huffing and puffing my way up out of the saddle at about 60rpm, mashing the pedals. He gracefully zipped past me in a higher cadence like I was standing still. I yelled out some frustrated words as he passed, and he turned around on the hill, came down to me and it was then I realized he only had one arm. Oops! Not only was I passed on a hill by someone much more fit than I, but he was doing it seated, and with one arm. He gave me some quick tips to help me get better, which are ingrained into my daily rides, even to this day:
"Stop breathing so hard!"
"Why are you standing on the pedals? It's not efficient."
"Hills are a mental game. Don't let them beat you. They're just flats… at an angle."
"If I can do this with one arm, you can certainly do it with two."
It was then that I came to know him as the famous Jim Henry, a cyclist from Rainbow and who later went on to compete and became a paralympic cyclist and went on to compete in Seoul in the 1988 Para Olympics. Ron and Jim, both from Rainbow cycles really helped me refine my techniques. He moved to Oregon many years ago and started pioneering some prosthetic technology for other athletes.
Unfortunately, Jim passed away in a tragic cycling accident in 2011, but you can read some of his writings if you want to know more.
I too, was hit head-on by a car traveling in my lane while cycling home from work one night from work in the early 90's. I saw the car coming at me at the last second, raised myself up high on the pedals, knowing I wanted to roll over the top of the car. As we collided, I unclipped, the bike went under the car, I went over, and the car kept going. All that was damaged was a crushed racing bike and a shattered pinky finger. The driver was never found, nor charged.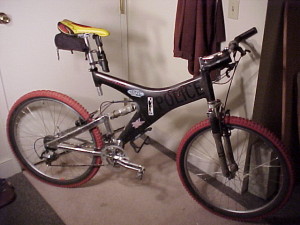 After that experience (and have had years of bottles, cans, dogs, cigarettes and yelling thrown at me as I commuted to work), I decided that any further cycing was going to be 100% off-road. So I decided to get my driver's license and bought a mountain bike to play with in the forest. I spent the better part of the next 10-12 years doing hardcore offroad mountain biking across most of New England. My steed for tens of thousands of miles was my Trek Y22 Carbon (the photo on the right is my actual bike, and I still ride it to this day, after buying it new from Sunshine Cycles in Colchester, CT in 1997).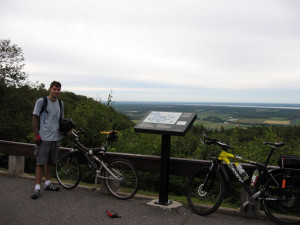 That bike has been all over the world with me, from Ottawa CA and up Parc de la Gatineeu to Sandwich, UK to Singapore to Sydney Australia. It's logged thousands of frequent flyer miles with me. The ride up Gatineau was a memory I'll never forget; getting stung in the tongue by a wasp 30 minutes into the 5 hour planned ride. I did the remaining 4.5 hours on pure adrenalin with a tongue the size of a squash ball in my mouth.
This summer (2015), at the urging of a good friend, I finally decided to park my mountain bike and invest in a brand new racing bike to replace the one that was crushed in the accident so many years before.
After outfitting my bike and body with a number of sensors to show what kind of performance I was getting and sharing that data online and with friends in the cycling community, many agreed that I should really be doing more with my cycling than 'recreational', and that I should seriously consider competing and racing.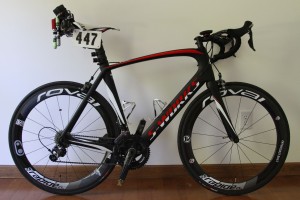 I haven't yet competed in any sanctioned races or events, but I did start racing against the clock in time trials this summer with a new cycling club out of Waterford, CT (Pequot Cycles). After the summer time trial season was over, I ended up being the highest-ranked/most improved time from my starting time, although I still have 3 minutes to make up to get 1st place.
I also joined two other riding groups out of Middletown, CT (Pedal Power) and Mystic, CT (Mystic Cycles). I typically get 5-6 rides per-week with those groups and 1-2 social/recovery rides per-week with two different friends during the season, depending on their schedules.
Riding with 3 separate cycling clubs, 5 rides per-week, 1-2 recovery rides and weekly time trials is how I spent the summer of 2015 so far. I'm not competing, but I'm hoping that coming out the other side of the 2015/2016 winter, I'll be in perfect shape for the next racing season, where I'll push ahead for my classifcation and see where I really land in the stats.
When I'm not outside riding, I spend a great deal of my time riding indoors on Zwift. It really is a game-changer (pun absolutely intended). The Zwift Riders community on Facebook is a welcoming, challenging, thought-provoking community of like-minded enthusiasts, recreational riders and racers. Zwift allows me to ride when I can't always break away the time to get outdoors, or when the tough, ever-changing New England weather isn't compatible with my desire to ride outside.
Back when I started riding with Scott's and Rainbow in the early 90's, I would have considered myself a competent climber, but didn't have the endurance for longer rides. Now I would say that I'm a very strong climber (hills are still my favorite), endurance for longer rides doesn't even dent me (yet, but I haven't pulled an Imperial Century yet but I have done a Metric Century in early December 2016, all on an indoor trainer!) but with the lighter, faster bike, I'm now able to snap into sprints faster than most in the clubs I ride with.
I'm currently putting in between 100 and 150 miles per-week, but I'd like to be able to put in a solid 300/week every week through the season. Being a single dad that time tends to be very challenging, which is where my introduction to Zwift really changed my cycling schedule and habits. Now I can put those rides in after I put my daughter to bed, or when she's in school. It helps me fill in the gaps in my routines.
My life has led me in a lot of really interesting directions, from being an amateur magician/stage illusionist and escape artist (I've been on stage with David Copperfield once and have seen him live dozen of times) to locally-sponsored skateboarder, Linux software developer (code I wrote and maintained is still shipped with most Linux distributions today), community builder to a father, cyclist and so much more.
There's so many years ahead, I hope to make the best of them with as much health as my pedals and wheels can bring me!
#RideOn!