This list will continue to grow over time..
Company
Public Community Pages
Zwift Radio Podcast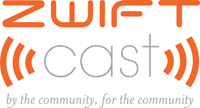 Simon Schofield, journalist and author at Cycling Weekly Magazine has put together a great audio podcast for Zwift riders and enthusiasts. The episodes have interviews from Pro riders, Zwift company staff, community supporters, vendors and more! Catch up with it each month and stay current with the latest and greatest in the Zwift universe!
Community (Facebook Groups)
This is only a sampling, there are hundreds of groups, which you can find here
Zwift Event Calendar
The Zwift Calendar on TeamUp has multiple calendars you can subscribe to with your own calendaring client, mobile device, tablet or simply browse via the web. Most to all of the scheduled rides, events, charity rides and other Zwift activities are found there. Pick a time, pick a ride you like and join in!
Zwift Race Results
René Rolighed has used the Strava API and linked it to the race and ride results provided by Zwift to bring together a Race Results scoreboard. It's a great resource if you want to see how you did, if you placed high in the podium and how others racing in the pack around you did. Great work, René!
Development